Share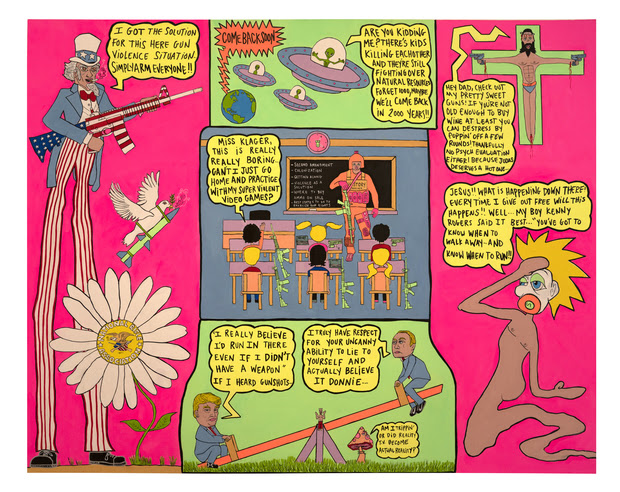 By Sean Kushner 
FF-1051 Gallery is pleased to present MAD X SICK, curated by gallery owner Holly Purcell an exhibition of new works by internationally renowned Los Angeles-based artists Nick Van Hofwegen and Sean Kushner. The exhibition features new acrylic-on-canvas paintings, imaginative hand-finished skate decks, hand-embellished guitars and found objects. Creatively playful, with strokes of the surreal, MAD X SICK brings together the vibrancy and energy of van Hofwegen & Kushner's works. Kushner's neon bright paintings push back at the viewer with sharp and darkly humorous current social commentary, while van Hofwegen's cosmic creatures and patterns pull the observer inward to spiritual reflection.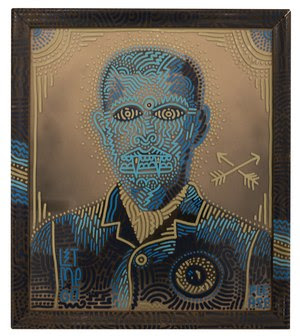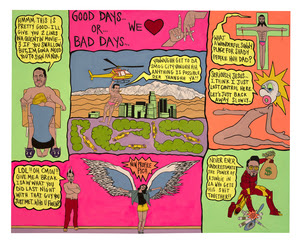 By Nick Van Hofwegen                                By Sean Kushner 
By Nick Van Hofwegen

Taken in, in its entirety MAD X SICK is a striking curation that toys with the intersection of what and where beauty and reality are found in contemporary culture. Upending expectations, from the materials of the works to poignant and witty revelations about the very devices and ways we access art, Nick van Hofwegen and Sean Kushner's works combine and contrast into an undeniably arresting whole. Nick brings the spirit of his music to his creations with a Made in LA flair of installation works. Nick van Hofwegen's artistry transcends across materials with a skillful playfulness, from paintings on canvas to a hand-painted toy piano. Inspired by the prints and paintings of Joan Miro', a series of galactic totem animals frequent the work. This is Nick van Hofwegen's first exhibition in Los Angeles. Sean's brightly illustrated pages of fearless cultural commentary harken back to vintage MADD Magazine. Sean's world is made up of larger than life canvas pages that tell their stories with humor and wit. Yet, the subject of his work is sometimes hard to look at. His figures crave affirmation on social media or are physically obsessed with managing their appearance or have a material and notoriety obsession that cradles the edge of self-destruction.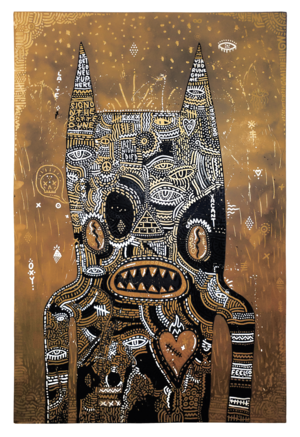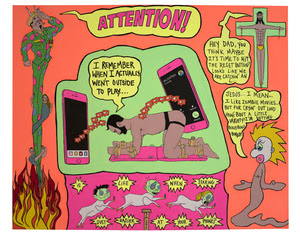 By Nick Van Hofwegen                                 By Sean Kushner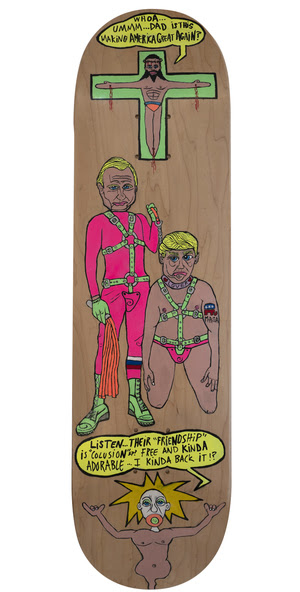 By Sean Kushner
ABOUT SEAN KUSHNER:
Sean Kushner's work carries the torch of the punk rock influenced non-conformists artists before him. Influences on Sean include Ray Pettibon and Keith Herring, using imagery and a sense of comedy that smacks you in the face with social commentary. Each piece reads like a vintage MADD Magazine using a bright neon color palette and humor to deceive the dark content it depicts. Sean's comic strip narratives draw you to the comic political commentary of our times. Kushner's life of tagging, skating and surfing are evident in his work, stylistically. Yet, the subject of his work is sometimes hard to look at. His figures crave affirmation on social media or are physically obsessed with managing their appearance or have a material and notoriety obsession that cradles the edge of self- destruction. Kushner finds inspiration for his work from his own autobiographical landscape which begins with reacting to outward absurdities and ends with growth and self-awareness. It is exactly on that threshold that Kushner sets up his easel to begin each work.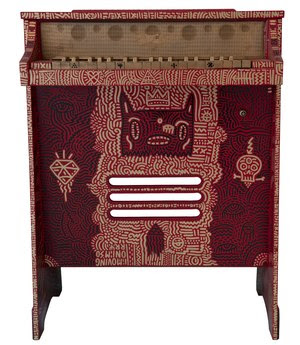 By Nick Van Hofwegen
ABOUT NICK VAN HOFWEGEN:
Nick van Hofwegen, under the moniker Young & Sick is a Dutch-born, Los Angeles-based artist who is accomplished as both a visual artist and at creating his own music with his band Young & Sick, Nick's art for Foster The People launched his visual style into the consciousness of the indie music universe and from there he expanded globally on tour and in the gallery scene. Nick van Hofwegen brings a "Made in LA" air to this series with a nod to the installation works of the early L.A. COOL School with paintings on canvas influenced by the spirit of his music, to hand-embellished guitars, and toy piano sculpture. Nick van Hofwegen's artistry transcends across materials with a skillful playfulness. A series of charismatic galactic totem animals have become signature in Nick's work. These creatures are inspired by the prints and paintings of one of his favorite artists, Joan Miro' and you can see the influence throughout the gallery in the shapes, forms, and faces that appear across the canvases and constellation of found objects.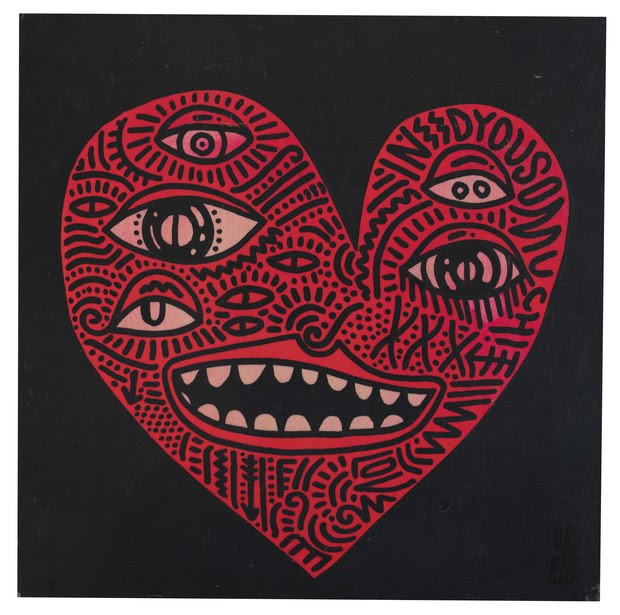 By Sean Kushner
Interview with Artist Sean Kushner
Tell us about your background as an artist?
I grew up in a family of artists. As a young kid, I remember seeing artwork done by my uncle, who used to draw Playboy-esque models that were very detailed, and my brother was a child prodigy artist who was taken under the wing of Christopher Still. He ended up attending the School of the Arts in Ft. Lauderdale, Florida. I remember loving the arts and wanting to go myself but didn't have the early on skill set to get any sort of support to do so. I went on through life growing up in south Florida and seeing graffiti and street art in Miami that peeked my interest and led to me finding the style that I was into as I got older.
​What is the main topic or focus that your current exhibition/series deals with and why?
The main topic of focus is the current state of the world. Emotionally, spiritually, and physically. The way we are self consumed, the attention seeking behavior and desperate need for validation is taking over the masses, via social media etc. and how it is affecting us as a whole. I also focus on things I see wrong in the world and in myself, and I try to make jokes about the issues, using sarcasm to create laughter at the expense of the dark issues while spinning awareness and my opinion within.
What inspires you as an artist?
What inspires me as an artist is every day life, studying human behavior, and seeing interactions that make me chuckle, which I can in turn into a canvas to try and bring light to the world. Bright colors and things that make me laugh are what inspire me the most, because all in all I have a very cynical view on the world, and I feel that anything that can lighten that load and bring joy is what makes me happy and feel that there is light at the end of a tunnel of things that can be focused on in the world that are pretty depressing. I try to focus daily on those positive, and not take things too seriously because by nature when I don't I can go down a rabbit hole.
Favorite quote that describes you and your work?
"I don't think about art when I'm working, I try to think about life, the more I paint the more I like everything" – Basquiat
What does art and fashion mean to you? How do you find the blend in this day as an art form?
They go hand in hand. I find both are a way to express yourself, and in this day in age where there are so many trends I find that standing out and staying true to myself is where I am most comfortable. Growing up skateboarding and surfing, going to punk and hardcore shows, I was immersed in a culture where anything goes, so whether I'm in a simple outfit or wearing something that is bizarre and stands out; I can do so based upon my mood and at my core, I can express myself however I choose, some days looking polished and together, other days leaving people that see me thinking to themselves "what the fuck"; and some days I like to stand out and stir the pot, while others I want to be invisible. It's a beautiful thing being able to express yourself however you choose to do so.
Why did you choose this career path?
I chose this career path because I love art; and initially it was a hobby and an outlet, then fortunately the more I painted the happier I was, and now I get paid to do what I love.
Who/what inspires you the most in fashion, music, and art? Any one or more people, places, and things that stands out?
Kanye, David LaChapelle, Raymond Pettibon, and all the other artists who give zero fucks and express themselves with no filter.
As an artist, what do you see as your signature style? Or do you have one.
Bright colored, dark themed social commentary about life between a boy and his dad.
Who is an artist whose work has influenced your work? 
Raymond Pettibon
What's next for you? Any new projects or collaborations on the horizon?
Art Basel. I will be showing most likely at a couple of places including Aqua, and I am doing some images for a clothing company, Saints of Sins, that will have a few of my images on shirts and hooded sweatshirts.