Share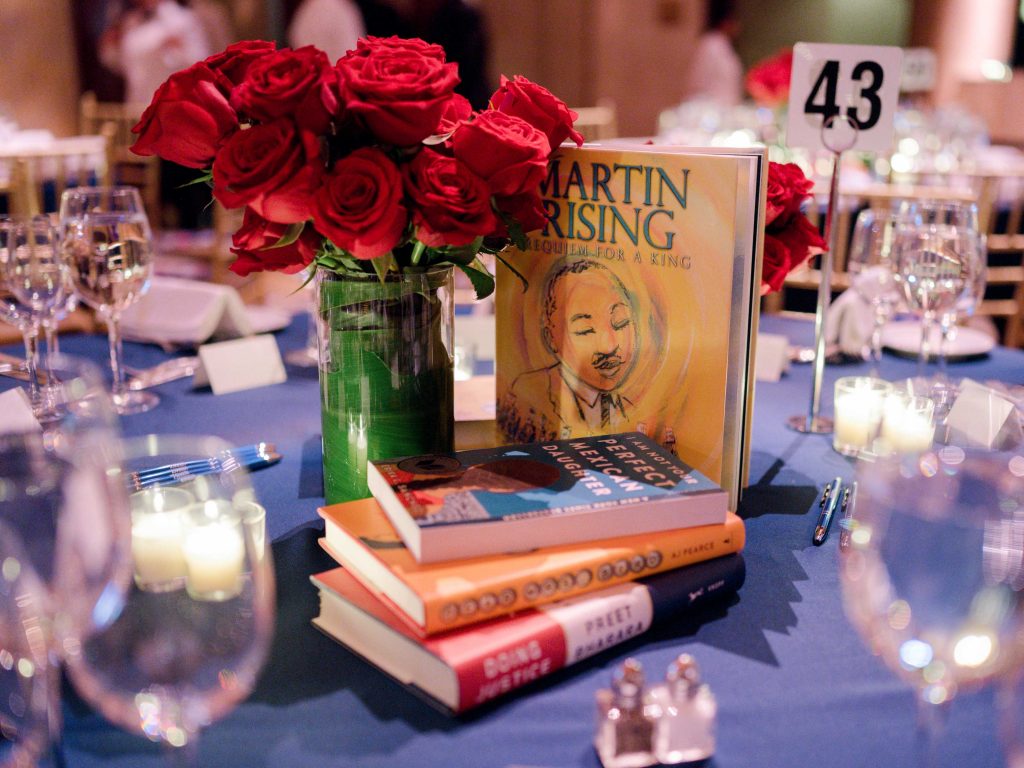 Wednesday night March 13th, 2019 at the iconic Cipriani Wall Street, Literacy Partners hosted its annual Evening of Readings & Gala Dinner Dance and raised $1.1M to further its mission to end illiteracy, with a focus on serving parents of young children. The publishing world came out in full force for the black-tie event that celebrates reading and supports the unique, educational mission of Literacy Partners. In addition to its vital work with immigrant and low-income parents, Literacy Partners has become home to a new generation of writers with something important to say on race and gender.
The Gala included a reading from one of America's foremost commentators on politics and the rule of law, Preet Bharara, who shared a sneak preview from his much-anticipated book Doing Justice, which is set to be released on March 19th. New York Times bestselling author Tayari Jones, read a moving passage from her most recent book An American Marriage, named a 2018 Oprah's Book Club selection and Andrew H. Tisch (Co-Chairman of the Board of the Loews Corporation) read from his book Journeys: An American Story. David Patrick Columbia emceed the evening, with opening remarks that recalled Liz Smith inviting him to the Literacy Partners Gala for the first time 25 years ago.
Former President of CBS Howard Stringer presented famed CBS News 60 Minutes correspondent Lesley Stahl with The Lizzie Award, which is given to an individual who exemplifies the late Liz Smith's passion for the written word and her commitment to improving the lives of those who cannot read or write. Stahl shared fond memories of Smith, remarking, "she gave her heart, soul and elbow grease to this organization." Author Arthur Levine paid tribute New York Times bestselling author Andrea Davis Pinkney's illustrious 30-year career in book and magazine publishing before presenting Pinkney with the Champion of Literacy Award. In her remarks, Pinkney recalled the importance of reading in her life growing up. For his devoted work in literacy and philanthropy the gala also honored Mike Steib, President & CEO of XO Group Inc. with the Corporate Leadership Award. For the past 7 years, Steib has been a true champion of the cause, providing indispensable leadership and guidance, raising a great deal of money, and bringing an extraordinary array of new talent to Literacy Partners. Fellow board members Alina Cho and Jeff Sharp presented Steib with the honor, before Steib shared remarks noting, "one of the great privileges of my life is to be a part of the organization." Steib later thanked Literacy Partners staff and students for "every day doing the work to make the world a little more fair." A highlight of the evening was Literacy Partners student Gicela Jarquin sharing her powerful story of how Literacy Partners changed her life, which brought the crowd to its feet.
Literacy Partners has provided critical literacy services to more than 25,000 New York City adults and their families since its inception 46 years ago. The organization now takes a dual-generation approach to education, focusing on parents of young children. With free classes throughout the city, parents can improve their reading, writing, and English skills while learning more about child development to boost their children's early learning and school readiness. With more than 1.2 million adult New Yorkers still struggling to read and write English at an 8th-grade level, there is much more to accomplish. Literacy Partners is raising money to expand its high-quality, community-based literacy programs that empower adults to reach their full potential as individuals, parents and citizens.

ATTENDEES:
Mike Steib (Honoree) Preet Bharara (Reader)
Lesley Stahl (Honoree, The Lizzie Award) Andrea Davis Pinkney (Honoree, Champion of Literacy)
Tayari Jones (Reader) Diane Sawyer
David Patrick Columbia (Emcee) Bill Owens, Executive Producer of 60 Minutes
Andrew H. Tisch (Reader) Joni Evans
Alina Cho (Board Member and Presenter) Elizabeth Peabody
Naomi Wolf Akiba Solomon
Strauss Zelnick Howard Stringer (Presenter)
Kimba Wood Peter Brown (Board Member)
Nona Hendryx Joni Evans
Susan Minot
Jesse Kornbluth Darnell Moore
Glory Edam Michael Denzel Smith
Hari Ziyad Radha Agrawal
Julie Scelfo Tanisha Ford
Georgette and Francine Farkas Marie Brenner
Arthur Levine (presenter) Katharine Raymond Hinton (Board Co-Chair)
Courtney L. Corleto (Board Member) Tracy Corrigan (Board Member)
Jesse Haines (Board Member) W. Ross Honey (Board Member)
Liz Perl (Board Member) Jeffrey Sharp (Board Member)
Todd Larsen (Board Member) Daniel Costello (Board Member)
Sebastian Niles (Board Member) Matthew Derella (Board Member)
Mark Gurevich (Board Member) Neal Goff (Board Member)
Ianthe Jeanne Dugan (Board Member) Lawrence A. Jacobs (Board Member)
Courtney Lewis (Board Member) Mark Subias (Board Member)
Sara Nelson (Board Member) Ilana OIzernoy (Board Member)
Paul Parikh (Board Member) Hope Pingree (Board Member)
Michael C. Hall

Andrea Davis Pinkney, Arthur Levine

Andrew Tisch, Ann Tisch

Andrew Tisch

Anthony Tassi, Tayari Jones

Literacy Partners

Brian Pinkney, Andrea Davis Pinkney

David Patrick Columbia

David Patrick Columbia

Diane Sawyer, Lesley Stahl

Diane Sawyer

Elizabeth Peabody, Joni Evans

Elizabeth Peabody, Lesley Stahl

Gicela Jarquin, Anthony Tassi

Gicela Jarquin

Giorgio Guidotti, Elizabeth Peabody

Nora Kobrenik

Howard Stringer, Diane Sawyer

Howard Stringer, Lesley Stahl

Howard Stringer, Lesley Stahl

Howard Stringer

Jeffrey Sharp, Alina Cho

Kath Raymond Hinton, Anthony Tassi, Tayari Jones

Courtney Lewis, Keylan Lewis

Kemp Steib, Mike Steib

Lesley Stahl

Lesley Stahl

Leslie Stahl

Matt Derella, Courtney Corleto, Mike Steib, Courtney Lewis, Jessie Haines, Mark Gurevich, Sabastian Niles

Liz Perl, Kath Raymond Hinton

Nora Kobrenik, Jenessa Brocco

Marie Brenner

Matt Derella, Melissa Derella

Mike Steib, Kemp Steib

Mike Steib

Mike Steib

Naomi Wolf

Paul Parikh

Preet Bharara, Lesley Stahl

Strauss Zelnick, Carolina Zapf, John Josephson

Susan Magrino

Tayari Jones

Tayari Jones

Tayari Jones

Wes Moore