Share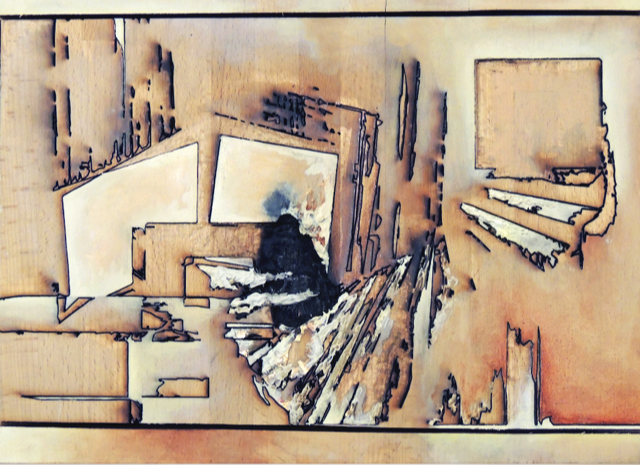 Conversation with Kelly Olshan
1.Please provide a biography.
Kelly Olshan is a NYC-based visual artist and arts manager whose sculptural paintings depict the byproducts of ambition. She graduated with a BFA in painting from UNC Asheville, where she was the first art major to graduate Valedictorian. She went on to receive her master's in Arts Administration from Columbia University. Her work has been exhibited nationally, most recently in a solo exhibition entitled Reimagined Landscapes at Sean Christopher Gallery in Columbus, Ohio, as well as three-person exhibition Memory Palace at Equity Gallery in New York, New York. Upcoming exhibitions include two solo exhibitions: Ambition and Anxiety at Yashar Gallery in Brooklyn, New York in August 2019, and Try at Ground Floor Contemporary in Birmingham, Alabama in January 2020. She has conducted artist talks and lectures at Eastern Washington University, Columbia University, Queens Council on the Arts, and UNC Asheville, where her work is part of the University's collection. As an arts administrator, she's passionate about providing fiscal and professional development resources for creative practitioners. Previous positions include programming and publishing roles at arts institutions such as Americans for the Arts, Creative Capital, Art21, and ArtForum; she currently serves as a Program Manager for Queens Council on the Arts, where she oversees the organization's Artist Commissioning Program and visual arts portfolio development program. In the Spring of 2019, she was named an Emerging
Leader by New York Foundation for the Arts.
2. How do you briefly describe your artistic work to the casual inquirer?
I make abstract, 3-dimensional paintings that transport the viewer into an imagined, architectural environment. I use staircases and the color blue to create an inaccessible, unreachable world.
3. What is your primary medium(s), and medium(s) for the work being highlighted?
I'm a painter. I work predominately in oil paint, which I use on 3D panels that I design. I frequently use a variety of mixed media to supplement the oil paint as well, such as charcoal, molding paste, and my trademark – recycled paint scraps and other cast-offs from the creative process, which I call "artistic waste."
4. As an artist, what do you value or enjoy most about your creative process?
In making work, there are some components I execute drunk, and some components I execute sober (as the saying goes). I design 3D painting structures in Sketchup sober. I match a color sober. I take a chance by totally re-conceptualizing a composition by painting at atmospheric haze over whatever I have so far, using 12 different brushes at once (some in my mouth, some in my hands, some on the table) to blend the oil paint into an abstract staircase drunk. Of course, the drunk phases are the most fun. They're both important, though: the sober portions support the drunk ones, and vice versa. If you're drunk all the time, you have a bunch of muddled colors and a weekly date with AA (it's clear I'm speaking metaphorically, right?). But those moments of the most pure and concentrated creation of a new, imagined environment – where my mind is most elsewhere and least here, when I'm listening to music and making a mess in kind of a trance and sometimes near-manic state – it's an euphoria some people must get from their gospel, or a runners high I've never achieved while running. That's my favorite part of my creative process. I've never experienced that feeling doing anything else.
5. What does art mean to you?
Art is the ultimate form of creative problem solving, with as many possibilities as there are artists and interpretations of that phrase. For me, art is the opportunity to create something that didn't exist before, to materialize a better world.
6. Where do you find your inspiration to create?
The honest but admittedly corny answer is that it's something that's been innate in me my entire life. I think it's inherit in a lot of us humans, as the impetus to create is evident in every early society – cave paintings and fertility goddess figurines came before accountants, before lawyers, before currency. For my part, as long as I'm alive, there's so much visual information to process and synthesize. There's so many ways imagine new worlds.
7. What do you hope your audience gains from your art?
On a most basic level, I want my audience to be transported. I want to grant them access to an inaccessible world. My work materializes a place that doesn't exist and could not exist. Its iterations are only as a mental, unattainable abstract – when we're on the cusp of something, when we're just about to accomplish a goal… My work presents the viewers with
this hypothetical landscape, and enables them to navigate the interconnected, otherwordly space.
9. How do you set yourself apart from other artists?
In the context of artists' opportunities, I think what distinguishes me is that I'm fluent in both the artistic and business side of my practice. I'm the artist that can write a succinct, professional email; keeps track of my art expenses for tax-write offs; knows what to put in a grant application to compel funders. Because I work as an arts manager, I know what arts administrators and patrons need from creatives. The ability to effectively navigate these professional environments as well as understand cultural gatekeepers' perspectives helps generate artist opportunities.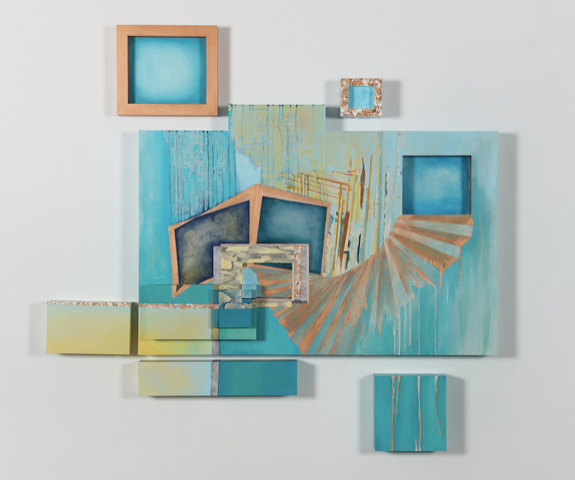 10. What artists are you inspired by?
As far as famous artists go, I'm really influenced by James Turrell's Skyscape series; Judy Pfaff's rich and complex installation environments; M.C. Escher's impossible architectures; Robert Rauschenberg's approach to mixed media; and Frank Stella's complex, sculptural paintings and wall hangings; and Jackie Saccoccio's gorgeous, spontaneous and layered
paintings. Recent works I've seen in NYC that really excited me include Brian Rochefort's painterly ceramics and Kathryn Mac's faux-digital paintings. I look at architectural images a lot, which is probably evident in my work given all the references to staircases and windows. Rebecca Solnit isn't a visual artist, but the way she writes about the color blue her essay The Blue of Distance was a game changer for me – it completely changed the way I thought about the colors I was using, and why I kept always returning to blue. She writes about how blue is the color of longing, the color of wanting to reach an unreachable space (because the distant horizon and faraway mountains are cloaked in blue, and once you arrive in these places, they cease to blue and cease to be distant). I'm also really influenced by artists that I know personally whom I've had the privilege of
witnessing their creative process up close. I grew up around Richard Jacobs' beautiful abstract paintings – he ignited my love for intuitive, abstract painting before I knew that was. I'm inspired by one of my closest artist friends Louise Bahia Thompson's perseverance and approach to creating paintings within paintings. I love the disjointed spatial environments of my former classmates Jamie Earnest and Tatiana Potts. If you don't know them, look them up! I strongly encourage everyone to expand beyond the household names and support/ get involved in the creative process of real, living artists whose work is just as strong, if not stronger than the dozen household names you always hear about (and more in need of your support!)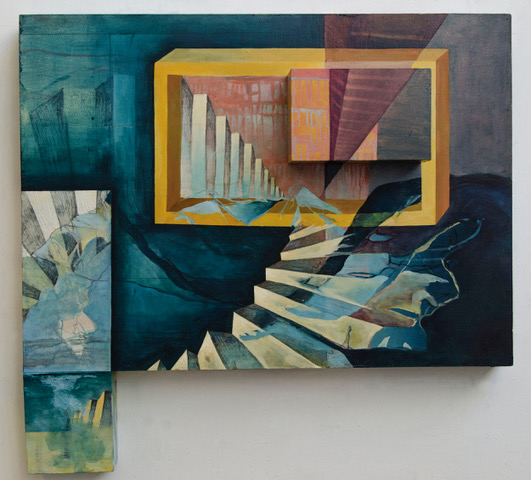 11. What compelled you to pursue a partnership with SeeMe?
So, my backstory with SeeMe is kind of unique. I got my master's from Columbia University, where I chose to take entrepreneurship classes from the Business School, as I've always been interested in the intersection of art and venture creation (isn't art essentially a new venture, and the act of being an artist an entrepreneurial endeavor?). I chose one entrepreneurship class in particular because the professor had an arts background – a track record of creating and overseeing art start-ups. I kept in touch with that professor, and after I graduated, he approached me to consult on his new art venture – an online platform and resource for artists, SeeMe. I then got to be involved in SeeMe's creation from the early stages, working with my former professor and now SeeMe Founder Brendan Burns to visualize the business model he could pitch to initial investors.
12. What do you value most about your partnership with SeeMe?
I'm excited about SeeMe as an innovative model for supporting artists. As an arts manager, I work on the nonprofit side of artist service organizations. For all its philanthropic intentions, the nonprofit sector often has some significant limitations in terms of capacity, scope, and the way funding can be used (funders, if you're listening, send unrestricted income, please!). I'm really interested in the ways for-profit models can be used to serve artists given that their business model exists outside of these limitations, and I think SeeMe is at the forefront of answering this question. I also love that SeeMe has welcomed my input as both an individual artists and an arts manager. It's rare that I get to be my whole professional self with an art organization in that way. I get to say things like, "I think this image would function better as a print," and "Enabling the artists to obtain a higher percentage of sales is more equitable" – and they listen to both.