Share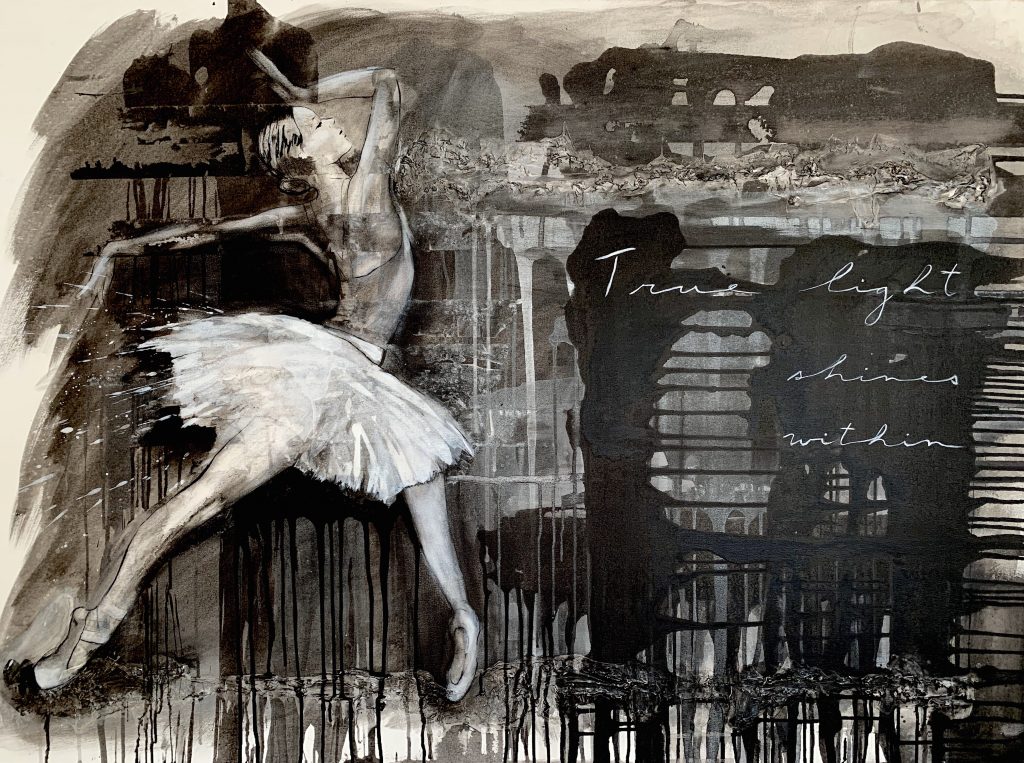 Interview with Anita Molina Desgroux
Please tell us your background.
Anita Molina Desgroux is an artist based in Santiago, Chile. Graduated in Graphic Design from Viña del Mar University, she started her career in Design and co-founded a small agency. Later she specialized in Marketing (Diploma and Master degree in Marketing at Adolfo Ibáñez University) and established her career in Santiago. As partner and head of design she shifted her focus to contemporary painting, which had always been a parallel interest, and dedicated to art since 2008. So long as I can remember I dedicated myself to art. I was just a child when my mother put me beside her with my first brush. I played around her trying to create things, just playing like kids do. I learnt everything from her, (she's an artist too) she is my mentor, I truly admire her sophisticated eye and sense of art in everything. Now I realized that I always knew this was my passion, it's something inside me. I guess I started listening to myself.
How do you briefly describe your artistic work to the casual inquirer? Modern, mixed media and contemporary painting. Fascinated by the unpredictability of human emotions and the real capacity of enjoying life. Whispering layers that talk on different intensity, being able to discover new details when you approach to the art work. Playing with transparencies and different materials that talk to each other and create and harmonic unity Searching for visual power of emotions.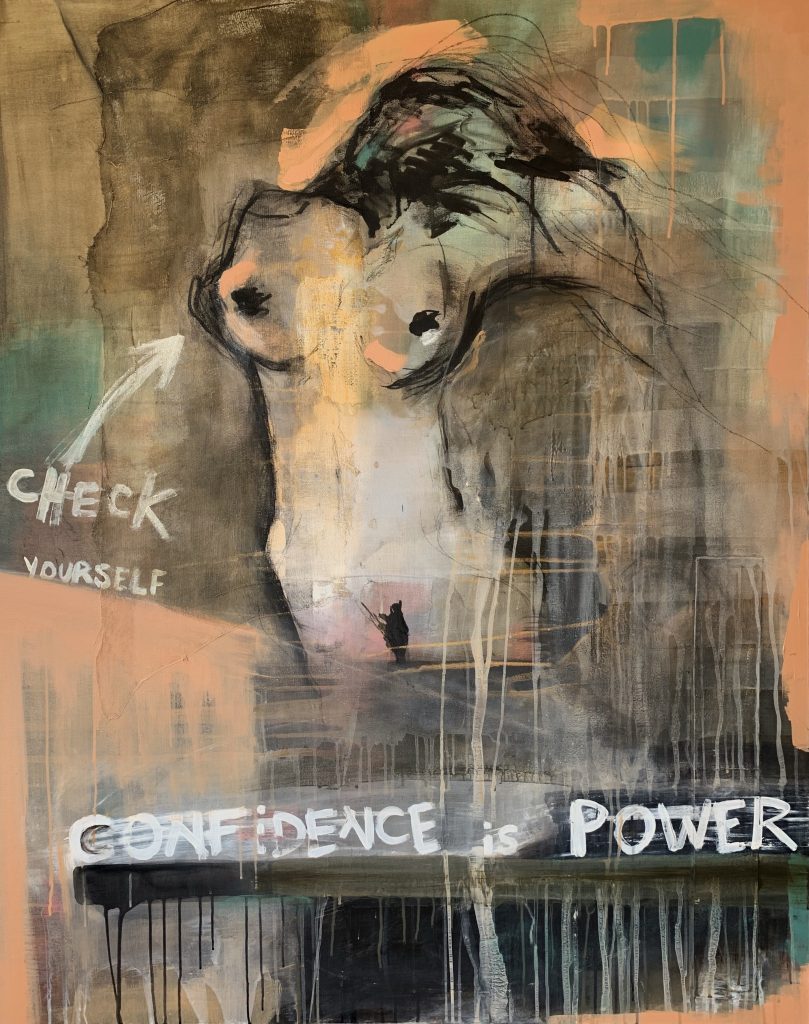 What is your primary medium(s), and medium(s) for the work being highlighted?
Primary medium: acrylic and mixed media. Making use of uncommon and "rough" materials, like cardboards, reversed canvases and hardware tools, painting abruptly and spontaneously. My approach relies on drippings, splashes and paint throws, so that the physicality of the painting process is transparent in the final piece.
As an artist, what do you value or enjoy most about your creative process?
Painting makes me feel alive and truly free. That love we have for our art is perhaps one of the most important qualities of creativity. The love, not for outcomes but for the process. That lets us find out what's inside of us, remind us why we're alive and makes our life meaningful. What I value the most is having the chance to express myself. I appreciate the opportunity that life gives me, being healthy again it's a miracle to me, having the strength and my whole body feeling good to do what I love. It is something I appreciate everyday. I really enjoy the process of creation, there is no fears, no failures, no sense of time, you're completely caught up and almost unconscious just authentic explosion of emotions.
What does art mean to you? I personally feel that Art is part of my identity. Creating is a need, it is part of who I am. Getting to know yourself inside and out is a real challenge in life, you have to face yourself and reflect on your fundamental nature, purpose and essence. I learnt to chase my dreams, to fight for what I believe and love: my passion, my soul, my artwork. I choose to be happy everyday. I embrace my soul and let all those feelings get out through my paintings. Painting became my true identity.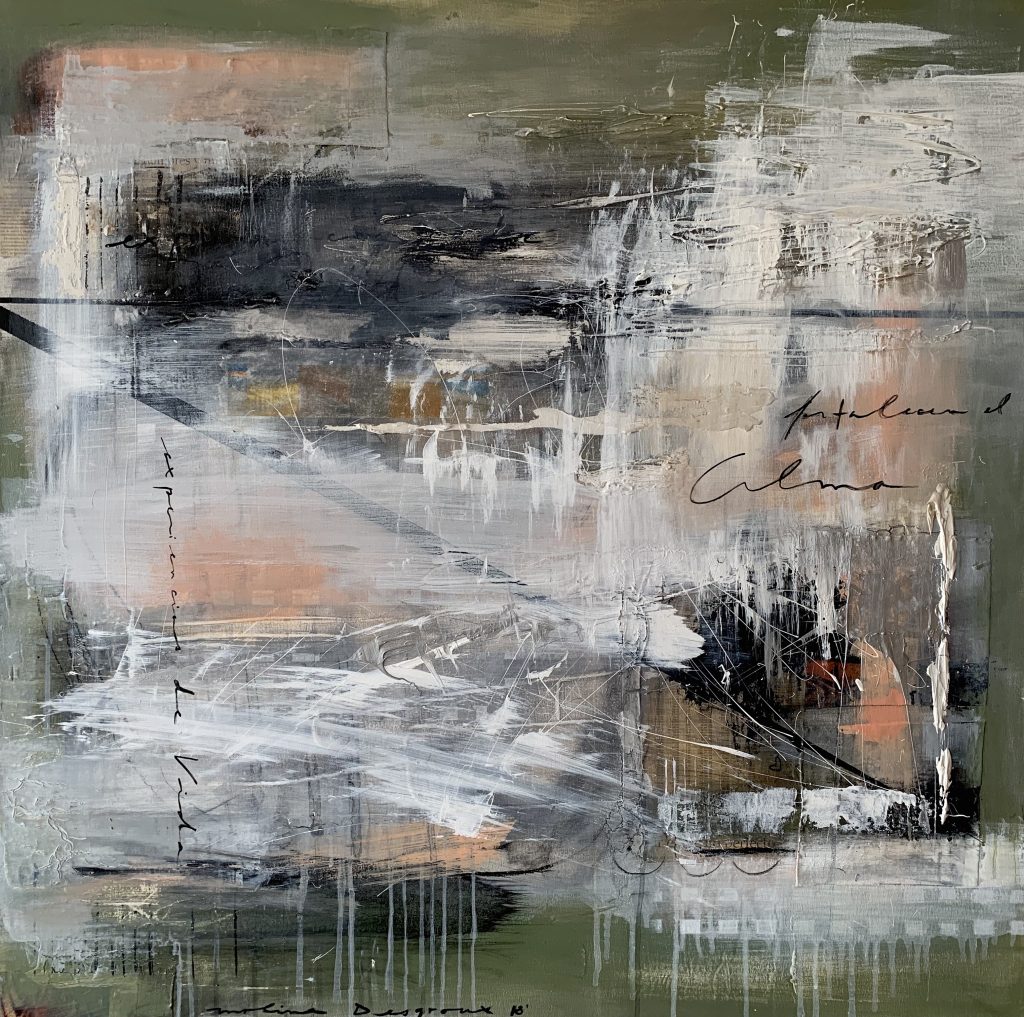 Where do you find your inspiration to create?
I find my inspiration on my own experiences in life, just LIVING it. It has not being easy because I am a Cancer survivor. I saw this experiences as a source of POWER . I learnt to trust myself more and listen to my internal voice because I am the one who got through all these rough situations. I have this amazing force inside of me that needs me to express my feelings through art, every day, hours and hours trying new things, materials, mixtures and colors. Feelings are my inspiration: love, fear, passion, attitude, hope, life, experiences, dreams, joy, letting go, living and being alive, being happy today and dancing in the dark (true light shines within). In my work this fight between two worlds can always be found: Peace & chaos, just like in real life. My art began to be nourished by all these experiences, vestiges of my own soul were engraved in them. And what I discovered is that I choose to believe and trust in myself . We are the only ones that have the power to change our destiny and that is what I did. I changed my whole life. Art is my priority now. Art is my essence, my balance my happiness.
What do you hope your audience gains from your art? I hope they could connect with their own dreams and their own joy of being alive. I hope they feel connected to the emotions I feel when I create each piece of work. I hope they are pushed into appreciating life, being alive, and learn to enjoy themselves: create, dance, laugh, hug. I hope they found their own passion and do whatever they love to do.
How do you set yourself apart from other artists?
I really don't know if I set myself apart from other artist but I can only say that my experiences of life definitely are unique and makes me who I am today. So when I create all these experiences reflect on my work to make something new and authentic. Being spontaneous and letting flow my artistic instincts it's important to me, being free to explore new techniques and discover on the process new forms of expression. I did take the opportunity to learn everyday just be yourself and listen to your soul. Believe and trust in ourselves. Embrace our souls and have self confidence on who we are because that´s the real POWER. Listen to your heart and be honest with your truth.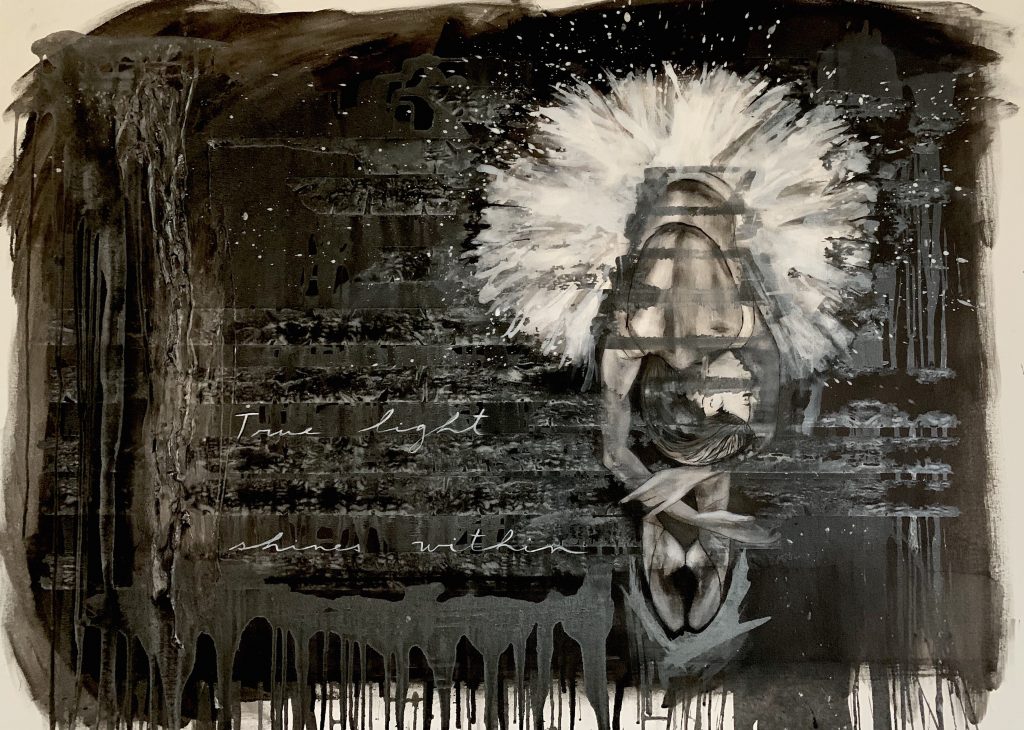 What artists are you inspired by?
From the classics: Michelangelo Buonarroti and Leonardo Da Vinci. From Modern art: Robert Rauschenberg, I am passionate about his legacy. All of them were ahead of time and unique with amazing artistic virtuosity. The sublime drawing of Michelangelo, the revolutionary ideas of Leonardo and the audacious abstract modern art of Rauschenberg. Each one has something to say to the world on their own technique. It's a privilege to learn from them and having the opportunity of admiring their artworks. So inspiring.
What compelled you to pursue a partnership with SeeMe?
I've seen how SeeMe is searching for new talents from all the world, new artists that have something unique to say on their artwork. For me as South American it's a great platform to show our art.
What do you value most about your partnership with SeeMe?
It's been an honor to be select to be part of SeeMe and show the world what we do. What an amazing opportunity for us: emerging artist to be expose in the US is so important for our artistic recognition. SeeMe opens the doors of the world.