Share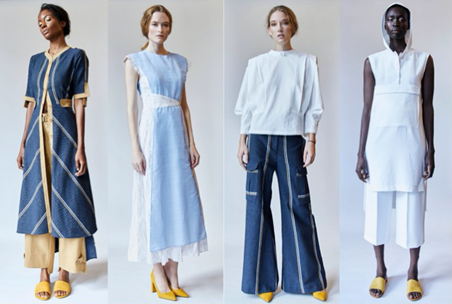 On Sunday, September 8th designer Hanh Merriman presented her namesake collection during New York Fashion Week downtown in Soho on Lispenard street. The silhouettes were comfortable yet chic, using strong lines, wide shapes, crip whites, classic denim blues and gold color pallet.This collection was inspired by the desert mountains in Utah; the lines, deconstructed rock formations and the warm color tonality. It reveals the boldness, wilderness, and elegance of mountain desert. 
MORE ABOUT THE DESIGNER
For Hanh Merriman, fashion has always been constant throughout her life. When Merriman was just twelve years old and living in rural Vietnam, she asked her mother for some fabric, as she wanted to create her own design. Though, she had no knowledge of pattern making or sewing, she was determined to create something. This became Hanh's first memory of fashion and a driving force to continue to create more, and she did! Armed with an innate sense of fashion and creative mind, Hanh ignited a lifelong love affair with fashion.
Hanh Merriman is a former style blogger and the founder of Life In Travel, where she chronicled her global adventures and designer obsessions. A frequent street style subject, Merriman is no stranger within the fashion community.
New York Times' fashion photographer, Bill Cunningham was notoriously critical of whom he snapped for his street style column, "On the Street." Even Cunningham was seduced by Hanh's fashion sensibility. She was flattered to make the cut and has cherished the moment ever since!
Hanh was very honored to be featured in Vanity Fair's international best-dressed list. She was also named best-dressed in local publications like D Magazine, DFW Style Daily and Dallas Modern Luxury.

"SHE IS ONE OF DALLAS' MOST ORIGINAL FASHION ICONS," SAID BRIAN BOLKE–FORTY FIVE TEN

Merriman is a devoted wife and loving mother to two daughters, which captivated the minds of Dallas fashion photographers, Kristi and Scott Redman. Eventually, landing Hanh in D Moms, Mom Crush: Four Women Changing Dallas. Hanh's instantly recognizable style also swayed Paper City editors to christen her as the "Acolyte Of The Exquisite."
In her own words, "Fashion is all about having fun–playing with your style, making an adventure of it, expressing your mood and who you are. You should enjoy it. Fashion is a living art form," said Merriman.
Season, after season she gave the photographers something worth snapping at New York and Paris fashion week. Landing her otherworldly enables in the pages of American Vogue, Style, Marie Claire, Elle and Glamour.
Hanh Merriman sees fashion as a totally transformative and empowering medium; where she expresses herself artistically through the clothes she wears. At heart Hanh is a woman about ideas, and most importantly she's a woman who believes in the magic of fashion!
MORE ABOUT THE BRAND
Hanh Merriman founded her eponymous collection in the Spring of 2018 as a fashion, and lifestyle brand that's committed in supporting luxury manufacturing in USA. "The perfect pairing of pop and restraint," is how Hanh Merrimandefines her brand's aesthetic. The women's ready-to-wear collection is composed of bold and edgy designs that remain timeless, which are defined by fine fabrics and the perfect fit.
As she paraded down the streets of the New York and Paris fashion weeks Merriman's alluring style turned many lenses. Therefore, it only seemed fitting she shared her passion for design with the world. Season after season,Merriman manages to distill her personal style and sensibility into designs that breathe accessibility and ease. Showcasing "There's something for every woman." Hanh uses her brand as a platform to raise awareness on giving back to those in need through soulful, humanitarian endeavors.