Share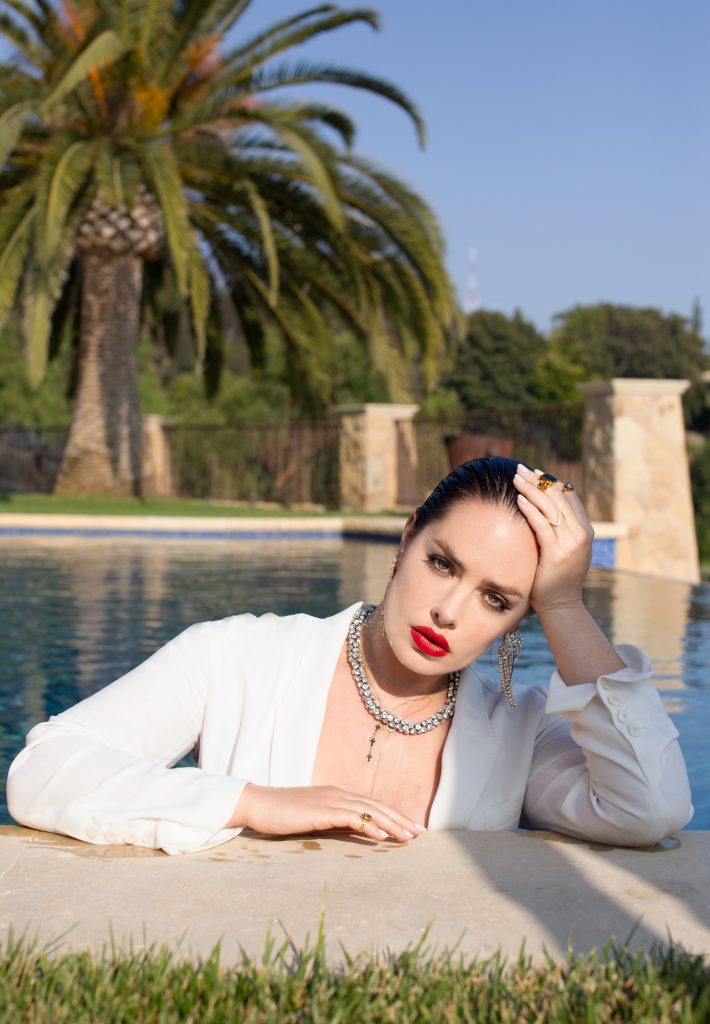 "Create a vision and never let the environment, other people's beliefs, or the limits of what has been done in the past shape your decisions." This quote by Tony Robbins is Beau Dunn's favorite. Dunn considers herself a contemporary conceptual mixed-media artist. Before she begins creating a piece, she thinks about what she wants to say through the specific piece of art. This is a traditional exercise used in art schools that stuck for her. "My artwork centers around many concepts, but more specifically about the materialistic and superficial pressures put on society. My artwork has a playful fun undertone with the pops of colors. I also love using iconic symbols like Barbie."
Beau had a passion for the arts for as long as she can remember. Her earliest memories of fine art are those of being surrounded by contemporary art in her childhood home. "Both of my parents have a passion for collecting art and it definitely inspired me. I'm fascinated by the thought that art means something different to each person because it's filtered through his or her life experiences. After graduating high school, I attended Pepperdine University in Malibu, and followed in the footsteps of my beautiful mother, and started acting and modeling. I was a full-time student studying Fine Art with an emphasis in Sculpture as well as acting and modeling full time. It was a super busy time for me, but remember art just being this amazing outlet for me to express myself. I don't think I choose this career path as much as it found me. I absolutely love what I do and feel very fortunate to have a platform to express myself."
"Art and fashion are truly everything to me! I feel they both represent self-expression in such a fun way. Everyday life inspires my art. I love that fashion brands are working with artists to combine fashion and art as one. Brands such as Chanel, Louis Vuitton, Dior, and Saint Laurent are very good at doing this. Women artists such as Yayoi Kusama, Frida Kahlo, and Vivian Springford inspire me not only through their artwork but also through their everyday lives – the highs and the lows are reflected so beautifully in their artwork. In fact, I love combining art and fashion so much that my upcoming series represents their relationship and how society values them. I'm also an artist who loves to collect art. My gallery wall is one of my favorite spots in my house and is filled with art I've collected from artists around the world, including many of my artist friends." When describing her work Dunn says, "Timeless with a splash of sparkle is one of my favorite looks. Growing up with a mom who is honestly the most fabulous human in the world, I realize my style very often immolates hers. My friends say when it comes to style it's all or nothing with me. I'm either in sweat pants and a hoodie hanging out at home or a sequin gown for night time." Same can be said for her visual esthetic.
Currently Beau is working on new art shows in Los Angeles, London, and Hong Kong. "I am beyond excited to finally release new work and have the concepts and ideas that I've had in my head for so many years come to life. I am also working on a cool collaboration out of London that combines art and fashion. In addition to creating art, modeling, and acting, I have a huge passion for traveling and excited to share the launch of Jetsett.com, a luxury travel online publication that seeks to share those once in a lifetime experiences and travel must-haves." That's definitely something to look forward to!
Story by Bart Owenby.