Share
SaveArtSpace + The Untitled Space + Art4Equality
Public Art Billboard Series + Benefit Exhibition
"Art4Equality x Life, Liberty & The Pursuit of Happiness"
CALL FOR ARTISTS
Deadline to submit: August 10th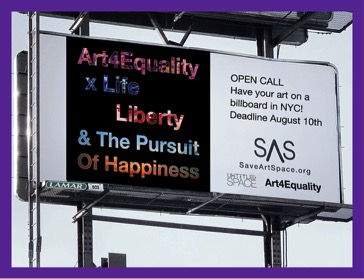 The Untitled Space and Art4Equality are pleased to announce a partnership with the non-profit SaveArtSpace for an empowering public art series of billboards in New York City launching this September 2020, along with an exhibition of the artwork created for the series to be presented at The Untitled Space gallery this fall. Revolving around the theme of "Art4Equality x Life, Liberty & The Pursuit of Happiness" the public art series and exhibition will be open for artist submissions via an open call to be curated by Indira Cesarine, founder of The Untitled Space and Art4Equality. The gallery exhibition will compliment the public art series with a presentation of unique and limited edition prints of the artwork.
"What do these words mean to you: "Equality," "Life," "Liberty," "The Pursuit of Happiness"? We live in an unprecedented time, our liberties robbed by a global pandemic, which laid painfully bare the inequities that have plagued the most vulnerable in our society for far too long. Political polarization in the United States is reaching critical mass with a divisive political system at war. Realities of social inequality and racial injustice are challenging our ability to have confidence in a promising future. We feel it is a crucial time to create an opportunity for artists to respond to our current situation, with the artwork presented in a public platform, where it can reach an audience of millions of people every day and promote an inclusive dialogue. The public art series "Art4Equality x Life, Liberty, & The Pursuit of Happiness" seeks to empower, enlighten, and shed a ray of hope on a city that has been under a dark cloud, in a country that is in tatters not only by an invisible virus, but also by political and civil unrest. The billboard transformed into an art display is an innovative, and ultimately accessible way to present contemporary art, transforming spaces normally dedicated to advertising into public art that has power and impact." – Curator Indira Cesarine
Artists are asked to be creative, with artwork inspired by 1 or more of the words or phrases of the theme.
Each billboard will feature your artwork along with your name and the title of the artwork. The gallery exhibition will compliment the public art series with a presentation of unique and limited edition prints of the artwork. This open call is open to all artists, regardless of gender, age, ethnicity, or practice. All mediums are welcome.
Learn more about the open call: untitled-space.com/artist-opportunities/
Artists are invited to submit their work for the opportunity via SaveArtSpace's open call platform: saveartspace.com/art4equality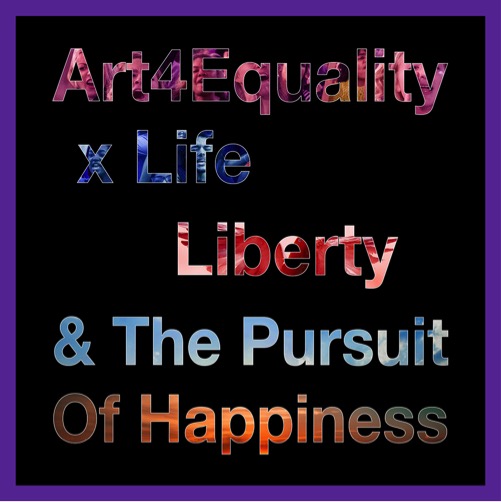 ABOUT SAVEARTSPACE:
Founded in 2015, in Brooklyn, NY, SaveArtSpace is a non-profit organization that works to create an urban gallery experience, launching exhibitions that address intersectional themes and foster a progressive message of social change. By placing culture over commercialism, SaveArtSpace aims to empower artists from all walks of life and inspire a new generation of young creatives and activists. Since 2015, SaveArtSpace has installed the artwork of 180 artists on 212 advertising spaces in 10+ major US cities, coast-to-coast. Beyond transforming advertisement space into public art, we work with a variety of community groups including: schools, senior residencies, shelters, youth groups, special needs programs, art collectives, galleries, and museums. Together, we aim to foster community and cultural enrichment through the arts. While supporting underprivileged and emerging artists by providing them the opportunity to display work in the public space.
ABOUT ART4EQUALITY:
Art4Equality is an initiative supporting equality themed art exhibitions and special projects including films and public art by female identifying artists and allies. The mission of Art4Equality is to create empowering artwork and exhibitions that can impact social change, raise awareness and inspire our community. Art4Equality additionally facilitates opportunities by providing mentorship to artists, as well as special programming such as panel discussions, performances, and educational art events. Art4Equality empowers by creating a platform for progress. By supporting the work of underrepresented and marginalized artists, Art4Equality demonstrates the value, quality, and diversity of their contributions to the community, encourages an inclusive dialogue, and promotes equality for all.
ABOUT THE UNTITLED SPACE:
The Untitled Space is an art gallery located in Tribeca, New York in a landmark building on Lispenard Street. Founded in 2015, the gallery features exhibits of emerging and established contemporary artists exploring conceptual framework and boundary pushing ideology through mediums of painting, sculpture, printmaking, photography, video and performance art. The gallery is committing to exploring new ideas vis-à-vis traditional and new mediums and highlights a program of women in art. Notable exhibitions include "UPRISE/ANGRY WOMEN" (2017), "SHE INSPIRES" (2017),"ONE YEAR OF RESISTANCE" (2018), "IRL: Investigating Reality" (2019), and "BODY BEAUTIFUL" (2019) among many other critically acclaimed exhibitions. The Untitled Space artists and exhibitions have been featured in countless international publications, including American Vogue, Vogue Italia, New York Times, Forbes, Newsweek, W Magazine, Harper's Bazaar, CNN, New York Magazine, Dazed and Confused, i-D Magazine, and The Huffington Post among many others.