Share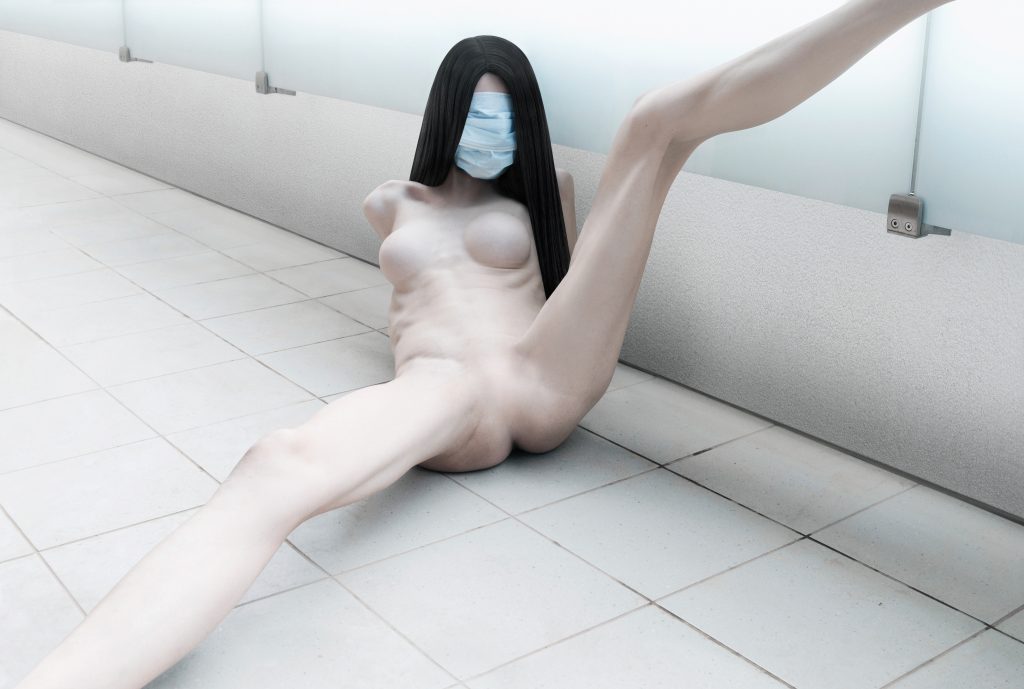 Joanna Grochowska received her MFA from the Faculty of Media Art and Set Design at the Academy of Fine Arts in Warsaw. She learned about art from two contrary perspectives. Apart from MFA from Academy of Fine Arts, she was also educated in Finance with a specialization in Banking and Investment Strategies. During that program she acquired knowledge of the art market and art as a form of an alternative investment. When she had to make a decision – she knew what she wanted and what her my role in life was to be.
The formative of her character took place when she became a student of Anda Rottenberg, famed Polish art historian, art critic and curator. After graduation Grochowska was selected for Vice Media The Creators Project and exhibited in the NSFW: Female Gaze show at the Museum of Sex in New York (2018). Curated by Lissa Rivera, Museum's associate curator and Marina Garcia-Vasquez, Editor-in-Chief of VICE Creators. "My compositions about hermaphroditism were presented among works of female artists, challenging the art historical concept of the male gaze and offering new discourse on gender, sexual desire and female gaze." In 2019 she participated in a notable A Body of Work exhibit curated by Ali Edelson as her MA Project for Sotheby's Institute of Art in New York – examining women's autonomy over their own bodies and the representation of the female form in the context of art history. Involved in gender and queer discourse, she became a part of the Antwerp Queer Arts Festival (2020) in Belgium, presenting works in the Galerie Verbeeck-Van Dyck.
The origin of Joanna's art is intellectual. "My work has been determined by certain intellectual influences, aesthetic training and exposure to the discipline of art history. The conceptual bases of my art are the notions of Transgression and Singularity. Many of the works pertain to transsexualism, depicting the body after sex reassignment surgery. My art relates to the future, affirming the gender fluidity, identity transition and a posthuman modified body. The imagery depicting a person as a mannequin blurs the distinction between Human and Nonhuman. Still, passive, faceless figure refers to void, emptiness, tabula rasa–provokes inventing of new desires, transgression; imposed by the imagination of the Viewer. In the recent works, the sexual organs and identity features are removed. The body becomes a symptom of the unnatural – edited and dematerialized human, posing a question of the possible future change of the ethical and moral lines we know. Apart from the idea of Transhumanism, there are references to art theory and philosophical systems in my work, concentrating on the notion of transgressor. Studying the thoughts of de Sade, Georges Bataille, Pierre Klossowski, Jacques Lacan, Julia Kristeva, Hanna Segal, Michel Foucault, Susan Sontag as well as discovering a two-volume work 'Phantom of Desire. Visions of Masochism in Art' edited by Austrian theoretician and curator Peter Weibel – became crucial elements determining my art." She claims that there is no formula to her work. "Enjoy the free zone beyond the norms. Purity of Form." Grochowska considers herself as another project. Her inspiration comes from fields of science and contemporary art such as Joel-Peter Witkin, Monica Bonvicini, Jennifer Doudna (2020 Nobel Prize in Chemistry for the development of a method for genome editing) and Raymond Kurzweil. A rather impressive selection.
Recently, her works have been on view in Munich Størpunkt Gallery for contemporary art, in THE NUDE exhibition. The curatorial concept refers to the limits of what is morally and aesthetically permissible, using the nude representation. Exploring Art and Transhumanism, focusing on the unnatural – edited human, designed and enhanced entities, the optimization of beauty is Joanna's current focus. "Opening the Future – the transgressive values of my art envisions the possible shift of ethical lines and a change in definition of what is human. Humanity as a project. Possible involvement in the think tanks and cultural institutions related to shaping the exponential future, ideally an exhibit at the Futurium Museum in Berlin."
Story by Cassandra Harris.