Share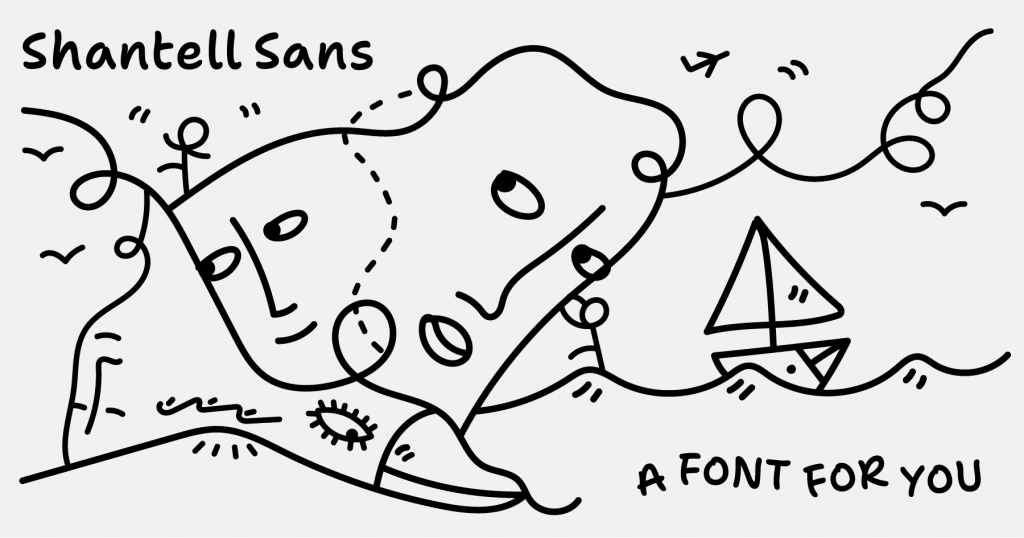 Artist and philosopher Shantell Martin has captivated audiences worldwide with her large-scale black-and-white drawings and lines for more than a decade. Within these drawings, one will often discover meaningful messages and coy questions, such as "Who are You," in Shantell's signature handwriting, and bold and playful expressions. Now, anyone and everyone can follow her iconic lines with her new font Shantell Sans. As a self-proclaimed "proud dyslexic," Martin has always had an interesting relationship with fonts and typography. She explains, "I always wanted to reclaim that space due to my dyslexia, and defeat my past challenges. The creation of my own font was an innate process and an extension of my artwork, and something I always wanted to do". Martin always writes in all caps so that her handwriting is more readable and describes her writing style as "bold, playful, clear to read, and, in a way, feels very much like my drawings." Designed together by Shantell Martin, Arrow Type, and Anya Danilova; Shantell Sans is a marker-style font built for creative expression, typographic play, and animation. It includes Latin and Cyrillic characters to support a wide array of languages throughout the Americas, Europe, Central Asia, and Vietnam. The font can be adjusted by weight, spacing, informality, bounce, and italics. Arrow Type's Stephen Nixon says, "Shantell's handwriting was already right there in her work, and perfectly suited as a starting point for a really interesting typeface!" Nixon describes Shantell Sans as "fun, welcoming, energetic, approachable, and creative" and says, "I love that Shantell was excited about the idea of making this font available to everyone." "I think fonts can really change the mood of a person in the way that they can be dense and limiting, or, on another hand, open and playful. I think we do pick up on these subtle messages on a subconscious level. I wanted to share my work in a new exciting medium accessible to anyone," Shantell further elaborates.
To learn more about the making of Shantell Sans, check out its website at: shantellsans.com and to download the font, visit github.com/arrowtype/shantell-sans. Shantell Sans is now available (with over 3 million downloads!) on Google Fonts (for Google Docs) by clicking here.

Shantell Martin is a public speaker, curator, philosopher, cultural facilitator, teacher, choreographer, performer, and more. From fashion and celebrity collaborations to roles at MIT Media Lab, NYU Tisch ITP, Columbia University's Brown Institute, and choreographing a ballet at the Boston Ballet, Shantell's drawn LINE constantly evolves. Creating new connections between fine art, education, design, philosophy, and technology, Shantell explores themes such as intersectionality, identity, and play.
Arrow Type is a type foundry and studio practice based in Brooklyn, NY which specializes in custom type, type design, and font development run by Stephen Nixon. Previously, Stephen worked in digital product design and brand experience design at IBM. In 2018, Stephen graduated with a Master's degree in Type and Media from The Royal Academy of Art (KABK) in The Hague, Netherlands. In 2019, Google Fonts commissioned and published Arrow Type's first release, Recursive. Today, Arrow Type has a focus on creating fonts that are beautiful, uniquely useful, and tell a story.

Anya Danilova is a type designer based in The Hague, Netherlands. She studied at the Moscow State University of Printing Arts, attending Alexander Tarbeev's type design workshop. In 2019, she obtained her Master's degree in Type and Media at The Royal Academy of Art in The Hague. In 2020, she won a Gerard Unger scholarship with her MA graduation typeface Rezak. Apart from working with typefaces, she loves writing and talking about them. She has written articles about various sides of typography and type design.